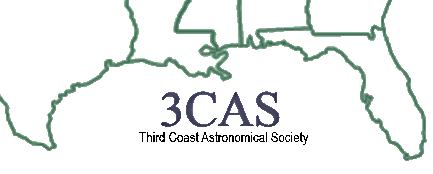 Home
---



Fourth Meeting of the 3rd Coast Astronomical Society
May 19 - 21, 2010
Department of Physics
Florida State University



---
Probing the Dark Ages
Topics include: Signatures of the dark ages, supernovae, GRBs and
their progenitor systems, accretion disks, IGM, ISM and star formation
Wednesday, May 19th - Friday, May 21

MEETING will be at
Florida State University
Tallahassee, Florida
---



Organizing Committee:

Reba Bandyopadhyay - University of Florida, Gainesville

Chris Gerardy – Florida State University, Tallahassee

Peter Hoeflich - Florida State University, Tallahassee

Kevin Krisciunas -Texas A&M, College Station

Chryssa Kouveliotou - Marshall Space Flight Center, Huntsville

Tomek Plewa – Florida State University, Tallahassee

Rob Preece – University of Alabama, Huntsville

Brad Schaefer - Louisiana State University, Baton Rouge

Jonathan Tan - University of Florida, Gainesville

Edward Robinson - University of Texas, Austin

J. Craig Wheeler - University of Texas, Austin
List of Invited Speakers (preliminary)
E. Baron, R. Bandyopadhyay, N. Bhat, A. Boley, S. Bruenn, C., R. Hynes, P. Kumar, M. Milosavljevic, D. Pooley, R. Preece, R. Robinson, B. Schaefer, J. Tan
IMPORTANT NEWS:
Wine tasting at DoubleTree starts on Tuesday, 6:30pm!!!
The meeting will take place in the Askew Student Life Center
Shuttle-busses between the hotel, meeting and dinner are available
For updated information related to travel and transportation, click here
The updated draft program is online (click here)
Conference Dinner will be at 'Los Amigos' (free including wine and beer)
Important Deadlines
Submission of Abstracts: April 30th , 2010
Please submit the abstracts to the organizers of the session or pah@astro.physics.fsu.edu
Early Registration: $70 till April 1st, 2010 (later $ 80)
Meeting Location and Lodging:
The conference will take place at the Student Life Center J 101 at Florida State University.
The conference hotel is the Doubletree in Tallahassee. A block of rooms has been
set aside, 2010 at special rate of $89/night. Transportation
from and to the meeting place will be provided each morning and evening.
Alternatively, you may prefer to walk about 1 mile.
Other Events:
Tuesday, 6:30pm: Reception and Vine tasting at the Double Tree
Thursday, 6:30pm: Conference Dinner at the Los Amigos Restaurant
(free including beer and wine)



| | |
| --- | --- |
| | FSU Physics department has large research programs in theoretical, experimental, and computational – condensed matter, nuclear, high-energy and astrophysics. |
Contributing Sponsor: INSTEP